Every Picture Tells a Story
"The single most important thing you can do for your family may be the simplest of all: develop a strong family narrative." – Bruce Feiler, in The New York Times
Dusty reels of beloved home movies or century-old wedding photos hold some of our most precious family memories. Most families have a collection of family photos, scrapbooks, slides and videotapes that range from a few dozen to a few thousand. They are wonderful, but constantly deteriorating, difficult to share, and the stories behind them are forgotten over time unless a concerted effort is made. That's a big problem, but what's the solution? EverPresent.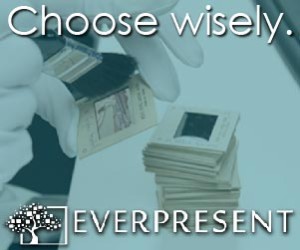 EverPresent is a 40+ person team of photo scanning and video conversion experts based here in Newton, Mass. EverPresent is a family-run business dedicated to helping families preserve what matters most and easily share it across generations.
EverPresent works with clients across the country and in family homes across New England to help breath new life into these archives by digitizing them and making it easier than ever to share via DVD, USB and over the internet. They understand that photos and videos are some of the most treasured pieces of family history and their caring, dedicated staff makes it easy and fun to take on this project.
At Story Trust and EverPresent we often see our clients in tears—the good kind! We both are proud of what we do and we love to share our passion and high standards of quality.
Please call EverPresent today at 617-505-1132, or click www.everpresent.com, or visit them in person at 1024 Chestnut Street, Newton, MA.