Project Description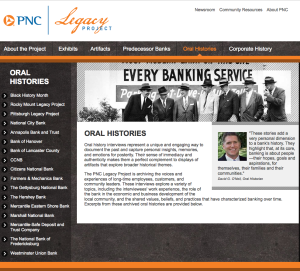 Story Trust is helping PNC, one of the nation's largest financial services companies, strengthen its brand and reach new markets by utilizing the power of personal stories.
PNC recently acquired the U.S. operations of the Royal Bank of Canada (RBC), including its predecessor banks. As part of the acquisition roll-out, the bank just unveiled its newest phase of the PNC Legacy Project to honor and preserve the history of local predecessor banks, the employees and officers who guided them, and the communities served. The exhibit features an audio and visual representation of the history of the banks and the region through compelling images, historical artifacts, and oral histories.
David G. O'Neil, personal historian and founder of Story Trust, was hired by PNC to record and produce a series of oral histories that accompany the exhibit, located in Rocky Mount, NC. The exhibit, which is free and open to the public, and the media coverage about the Legacy Project provide PNC with innovative ways to reach new customers.
Story Trust has also produced two dozen oral histories for PNC that tell the story of the remarkable transformation of the bank's home town of Pittsburgh, PA. The ongoing exhibit will be updated in the coming months with new stories, including interviews with golf legend Arnold Palmer; Grammy-winning musician George Benson; and Art Rooney, third-generation owner of the Pittsburgh Steelers.
"The PNC Legacy Project's oral histories have become a compelling feature of both the Pittsburgh and Rocky Mount exhibits. Whether interviewing an executive, community leader, athlete or artist, David O'Neil's ease and skill have captured a number of great stories."
Listen here to some of the oral histories Story Trust produced.